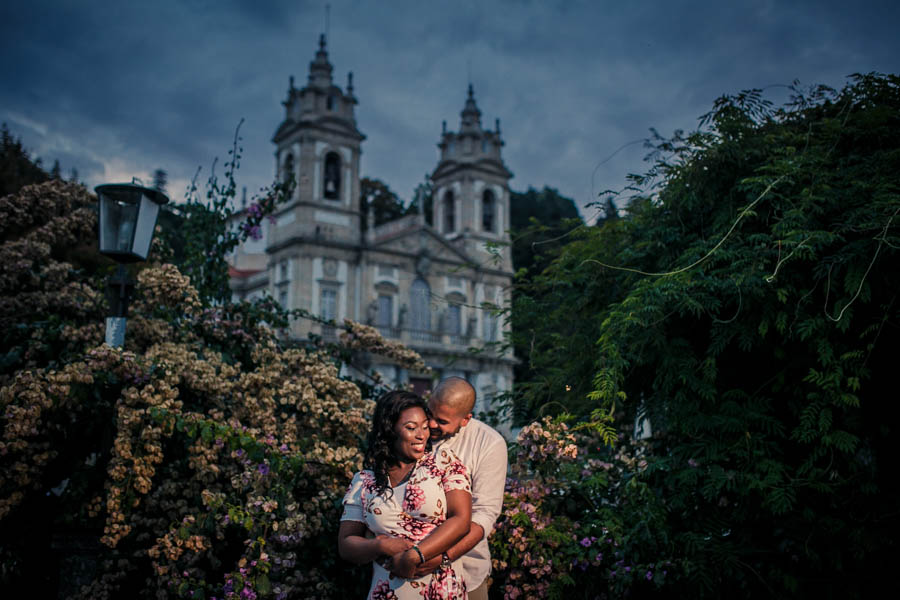 Portugal is so diverse in its beauty that from North to South one can find a variety of natural beauty, stunning monuments and historical landmarks. Today we´re travelling up to Braga where Fatimat and Niyi had their wedding and engagement session right in the middle of Fall of last year. We had very little time for this shoot but the couple picked gorgeous Bom Jesus do Monte Sanctuary which proved a perfect background for a stunning Autumn Engagement Session in Braga.
The beautiful duo, Fatimat and Niyi are from Nigeria but they both live in different parts of the world. Fatimat lives in London while Niyi up till the time of the wedding still lived in the US.
They are beautiful, fun and perfect for one another. They were constantly smiling, laughing and playing around. Bom Jesus do Monte is one of the landmarks of Braga. It is an important location for pilgrims with a very high, 116-meter Baroque stairway leading up to the sanctuary lined with fountains, and chapels that feature Jesus´s Stations of the Cross. There is also a funicular that takes tired tourist up the 575 stairs toward the sanctuary. As we had little time due to Sun setting quickly at this hour, we focused our session mainly around the funicular cute station and it´s the neighbouring viewpoint overlooking Braga town.
The sunset colours with the trees framing our couple at the lovely Bom Jesus backdrop made for some stunning and happiness filled images. Fábio and I were very lucky to stay over in one of the hotels right next to Bom Jesus sanctuary, so after the session, we stayed up and contemplated the beauty of this holy and picturesque location.
Our next blog post is going to be on Fatimat and Niyi´s wedding that occurred the very next day at the amazing Quinta do Lago dos Cisnes in Amares. Stay tuned!